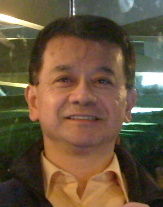 Hi Everybody ! Minasan Ogenkidesuka ! Hola que tal !
Welcome to my wondeful world of Magic. I am "MagicJo", your host for tonight.
I am an Amateur Magician-Juggler, a member of World reknown I.B.M. ( International Brotherhood of Magician ), F.I.S.M. ( Federation International de Society de Magicians ) and JCMA ( Japan Closeup Magician Association ) also JJA ( Japan Juggling Association ). I do speak English, Japanese and Spanish.
Magic became as one of my Hobby in 2005, because I only practice average once a month for around 20~30 minutes, I am still at Intermediate Level.
I specialize in "Close-up Magic" and do 20 minutes Shows and 1 hour Workshops "Street Academy " style ( at Coffee Shops & Public Library meeting room ) and at private parties.
Beside Magic Show, I do provide private and group lesson on Basic & Intermediate Magic for Absolute Beginners using everyday objects. No EFFORT, No MOTOR SKILL needed, as I teach SYSTEMATICALLY, step by step till everyone get it. At the end of each Workshop everybody will be able to perform 4~5 tricks to family and frien ds with confidence.
My base area is the "Greater Vancouver"(BC, Canada), the most beatifull and livable city in the World...
Lets your journey to my wondefull Magical World begin... Cigam-Cigam ( Abra Cadabla)
---
Whats Magic?
"Magic" - Awaken your Wonder, revitalize your mind through element of surprise.

"Magic" - Uses Applied Science, Phycology, Math and Chemistry,to makes impossible things in reality possible.

"Magic" - School Ed. & Religions are like Window/Mac OS, while Magic is like Android OS which Brain uses to performe mysteries and Wow audiences. Imagine what we can achieve if we use it for everyday tasks...

"Magic" - UNITE us all, regardless of nationality, gender, age...We are one, in Magic!
---
Upcoming EVENTS
3rd Monday MAGIC SHOW

Hosted by Fraser Valley Magic Circle, the 3rd Monday of every month from 7 pm - 8:30 pm.
Opening Night Theater, 33227 Railway Ave, Mission BC, across the street from the West Coast Express train station.($5 ~ $10).
Tickets




Jordan & Cara Magic Classes for Kids.

Locations: West End Community Center, Roundhouse Community Center, Marpole-Oakridge Community Center.
Registration: 778-996-6514
For more info




MAGIC @ Big Ben BOSTON PIZZA

5801 Marine Way , Burnaby, BC.

Every Sundays from 6:30pm to 7:30 pm.




Jan.15th ~ Jan.20th 2019 - "The Illusionist - Live from Broadway"

Queen Elizabeth Theater
Vancouver, BC.
Tickets




2020 North American F.I.S.M Qualifier Convention

Quebec city
Quebec.
Registration




2021, July26th ~ 31st - QUEBEC - F.I.S.M. Convention

Quebec Convention Center.
Quebec City, Quebec.
Registration



---
---
Magician's Thoughts for the 21 Century, recreate Phenomenon with Magic:

Multiculture Fusion Magic

Communicative Magic

Magic of Super Heroes

Interdiciplinary Magic

Magic Borealis

ExtraTerrestial Magic
---
---